Visual disturbance in eyes with epiphora
We are pleased to announce that our paper, titled "Quality of Vision in Eyes with Epiphora Undergoing Lacrimal Passage Intubation" has been accepted by AJO.
http://www.ajo.com/article/S0002-9394(17)30274-X/fulltext
What we found are ;
Tear film instability due to excessive tear film is associated with decreased quality of vision in eyes with epiphora.
Lacrimal passage intubation significantly improved visual function and optical quality in eyes with epiphora by restoring the patency of the lacrimal passage.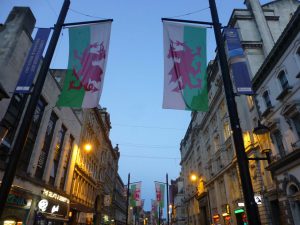 Main street with "Red Dragon" flags in Cardiff, Wales. I had a splendid time there last month.