Conference Presentation
2015 Conference Presentation
2015
Taiwan Ophthalmology Society
Symposium
Friday, November 28, 2015Taipei
Benefits of MGD treatment for pre-surgical treatment

Reiko Arita

(Clinical Research Fellow, Dept. of Ophthalmology, University of Tokyo, Director of Ophthalmology, Vice Director, Itoh Clinic Associate Professor, Dept. of Ophthalmology, Keio Universit)
AAO 2015
American Academy of Ophthalmology
November 14-17, 2015USA
Contrast sensitivity and ocular forward light scattering in dry eye

Shizuka Koh, Naoyuki Maeda, Chikako Ikeda, Sanae Asonuma,akahiro Hiraoka, Sujin Hoshi, Tetsuro Oshika, Kohji Nishida

Proposal of Novel, Definite, and Highly Reliable Grading Scales for Meibomian Gland Dysfunction

Reiko Arita, Rika Shirakawa, Shima Fukuoka, Izumi Minoura, Kei Asai, Takahiro Imanaka, Masatsugu Nakamura, Shiro Amano
The 69th Annual Congress of Japan Clinical Ophthalmology
Oral presentation
Sunday, October 25, 2015Aichi,Japan
Effects of a warm compress containing menthol on the condition of the tear film in dry eye patients

Reiko Arita1,2,3 , Naoyuki Morishige2,4 , Ichiro Sakamoto2,5 , Natsuko Imai5, Michihito Igaki5, Atsushi Suzuki5, Kazuo Tsubota3

1)

Department of Ophthalmology, Itoh Clinic

2)

Lid and Meibomian Gland(LIME) Working Group

3)

Department of Ophthalmology, Keio University School of Medicine

4)

Department of Ophthalmology, Yamaguchi University, Graduate School of Medicine

5)

Kao Corporation
The 69th Annual Congress of Japan Clinical Ophthalmology
Instruction course
Sunday, October 25, 2015Aichi,Japan
MGD diagnosis and management 2015

Reiko Arita, Naoyuki Morishige , Motoko Kawashima, Shizuka Koh , Rika Shirakawa , Takashi Suzuki, Tohru Sakimoto

Lid and Meibomian Gland(LIME) Working Group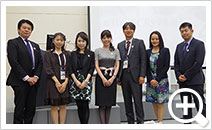 The 69th Annual Congress of Japan Clinical Ophthalmology
Poster presentation
Friday, October 23, 2015Aichi,Japan
Effect on morphological and functional meibomian glands by kinds of soft contact lenses

Shima Fukuoka1, Reiko Arita2,3,4

1)

Omiya Hamada Eye Clinic

2)

Department of Ophthalmology, Itoh Clinic

3)

Department of Ophthalmology, University of Tokyo School of Medicine

4)

Department of Ophthalmology, Keio University School of Medicine
The 35th Annual Scientific Meeting of the Japanese Society for Ocular Pharmacology

Symposium2

"Dry eye strategy"

Sunday, September 6, 2015Tokyo,Japan
Strategy for obstructive MGD

Reiko Arita (Department of Ophthalmology, Itoh Clinic)

Strategy of dry eye in office workers

Motoko Kawashima
(Department of Ophthalmology, Keio University School of Medicine)
ARVO meeting

(The Association for Research in Vision and Ophthalmology)
May 3-7, 2015USA
Meibum color and fatty acid in patients with meibomian gland dysfunction

Arita R, Mori N, Shirakawa R, Asai K, Fukano Y, Imanaka T, Nakamura M, Amano S.

Clinical and Histological Investigation of the Double Row of Meibomian Gland Orifices

Shirakawa R, Arita R, Ito M, Sawamura H, Amano S.
The 119th Annual Meeting of the Japanese Ophthalmoplogical Society
Oral presentation
Thursday, April 16, 2015Hokkaido,Japan
Histological and functional observation in double row orifices of meibomian glands

Rika Shirakawa
Department of Ophthalmology, University of Tokyo School of Medicine

Development of Definitive and Reliable Grading Scales for Meibomian Gland Dysfunction

Reiko AritaDepartment of Ophthalmology, Itoh Clinic
APAO
Luncheon Seminar
Thursday, April 2, 2015China
Impact of Dry Eye Disease on Quality of Vision

Shizuka Koh (Osaka University Graduate School of Medicine)
2015 Taiwan Academy of Ophthalmology Spring Meeting
Symposium
Saturday, March 21, 2015Taipei
Latest technology for diagnosing and treating Meibomian Gland Dysfunction that results in evaporative dry eye

Reiko Arita (Itoh Clinic)
Asia-ARVO 2015
Poster Session
Wednesday, February 18, 2015Kanagawa, Japan
Effects of a warm compress with menthol on the tear film conditions

Arita Reiko1,2, Morishige Naoyuki3, Sakamoto Ichiro4, Imai Natsuko4, Igaki Michihito4, Suzuki Atsushi4, Tsubota Kazuo2

1)

Ophthalmology, Itoh Clinic, Saitama, Saitama, Japan.

2)

Ophthalmology, Keio University, Tokyo, Japan.

3)

Ophthalmology, Yamaguchi University, Ube City, Japan.

4)

Personal Health Care Products Research Laboratories, KAO Corporation,Tokyo, Japan.
Asia-ARVO 2015
Symposium
Wednesday, February 18, 2015Kanagawa, Japan
Recent advances in dry eye

– Organizer:

Norihiko Yokoi


(Kyoto Prefectural University of Medicine, Japan)

Hyo Myung Kim


(College of Medicine, Korea University, South Korea)

– Speaker:

Roger Beuerman


(Singapore Eye Research Institute/ Duke-NUS, Singapore)

Kyung Chul Yoon


(Chonnam National University Medical School, South Korea)

Shizuka Koh


(Osaka University Graduate School of Medicine, Japan)




"Visual Disturbance in Dry Eye Disease"

Reiko Arita


(Itoh Clinic/ The University of Tokyo/ Keio University School of Medicine, Japan)




"Recent advances in meibomian gland dysfunction"

Yuichi Hori


(Toho University Omori Medical Center, Japan)
Japan Cornea Conference 2015
Oral presentation
Friday, February 13, 2015Kochi
Increased tear fluid production as a compensatory response to meibomian gland loss: a multicenter cross-sectional study

Reiko Arita1,2 , Naoyuki Morishige1,3 , Shizuka Koh1,4, Rika Shirakawa1,5 ,Motoko Kawashima1,6, Tohru Sakimoto1,7 , Takashi Suzuki1,8, Kazuo Tsubota1,6

1)

Lid and Meibomian Gland(LIME) Working Group

2)

Department of Ophthalmology, Itoh Clinic

3)

Department of Ophthalmology, Yamaguchi University, Graduate School of Medicine

4)

Department of Ophthalmology, Osaka University Graduate School of Medicine

5)

Department of Ophthalmology, University of Tokyo School of Medicine

6)

Department of Ophthalmology, Keio University School of Medicine

7)

Department of Visual Sciences, Division of Ophthalmology, Nihon University School of Medicine

8)

Department of Ophthalmology, Ehime University, Graduate School of Medicine