This blog introduces Takushima island, Nagasaki. Takushima island locates north of Hirado island, Nagasaki. (Wikipedia: https://commons.wikimedia.org/wiki/File:Takushima_Hirado_Nagasaki.png)
In this autumn, we LIME working group plan to carry out ocular surface examination for all residents living in Takushima island. In advance to that, I visited Takushima island twice, so I introduce this beautiful Takushima island.
We have to take a ferry to reach Takushima island. We can see the Takushima elementary-junior high school at the center of the island.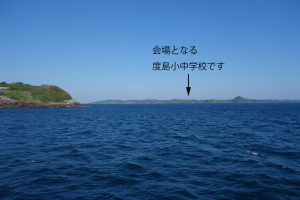 When I landed at Iimori port, Takushima Luffy met to welcome me. The guide map shows the entire shape of Takushima island.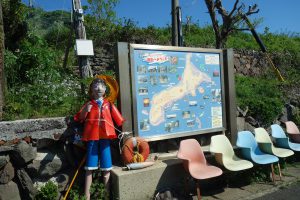 I enjoyed the very beautiful sight from the middle of the hill in Takushima island. I was very refreshed.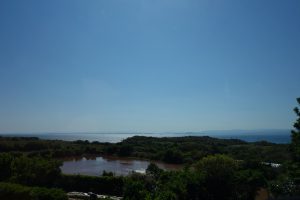 A resident in Takushima told me that they have a lot of fish or shells, maybe too much, so that they do not want to pay money to buy fish to eat. This indicated that they the residents in Takushima island eat fish or shells regularly, so the result of examinations will be very exciting. We are very looking forward to visit Takushima island again in this autumn!